If you are a homeschooling parent to young children, you know the effort that is required to keep your kids engaged and learning at the same time. You also know that it is SO. MUCH. EASIER. to keep your kids engaged when they are having fun.
As a veteran homeschool mom, I have always looked for ways to captivate my kids' attention and make learning enjoyable. When my kids were little, nothing grabbed their attention quite like LEGO bricks. These small, colorful pieces of plastic offered endless possibilities for creativity and exploration, and they quickly became a staple in our homeschool curriculum.
LEGO bricks are versatile
One reason I love using LEGO bricks in our homeschool is because they are so versatile. I can use them to teach a wide range of subjects and skills, from math and science to history and creative writing.
For example, in science we used LEGO bricks to build simple machines and explore the principles of physics and engineering. In social studies, my kids built dioramas of historical events using LEGO bricks. I also found ways to incorporate LEGO bricks into creative writing, by having my kids build a scenes with multiple characters and then write a story to go along with it.
LEGO bricks are fun for kids
But it isn't just the versatility of LEGO bricks that make them such a valuable tool for any homeschooling parent. It is also the fact that they are so much fun for kids to use.
My children loved building with LEGO bricks, and they would spend hours creating elaborate structures and scenes. They would experiment with different designs and colors, learning through trial and error as they built and rebuilt their creations.
LEGO bricks encourage collaboration
If you homeschool multiple children, you can use LEGO bricks to encourage collaboration and problem-solving between siblings.
When they were younger, my children would work together to build structures and solve challenges, sharing ideas and strategies along the way. In the process of discussing their plans and progress, they developed communication skills and they learned to work as a team to achieve their goals.
LEGO bricks make learning hands-on
LEGO bricks also offer a hands-on learning experience that may be difficult to replicate with other resources. This hands-on approach makes learning more engaging and memorable, helping children retain what the learn and apply it in new situations.
As a parent, I would observe my children's creative LEGO play as a window into understanding what they were gleaning from their educational experiences. It was not uncommon for me to see my children's life adventures – such as a museum visit, an aquarium tour, or a trip to another city – reflected in their LEGO builds. This provided me with insight into what things were memorable or stood out to them.
LEGO bricks have been a positive part of our homeschool journey
As I reflect on our homeschool journey, I am grateful for the opportunity to incorporate LEGO bricks into our learning. They have helped us create a dynamic and engaging curriculum. They have fostered creativity, collaboration, and problem-solving skills. And they have offered a hands-on learning experience that made concepts come to life for my kids.
If you are a homeschool parent looking for ways to bring more fun and learning to your curriculum, consider incorporating LEGO bricks into your days. Whether you are teaching math and science or history and creative writing, LEGO bricks offer endless possibilities for exploration and creativity. They are a versatile, fun, and valuable tool that can help make learning more engaging and memorable for your children.
Need some inspiration for how to integrate LEGO bricks into your homeschool?
Brick Based Learning offers a literature-based subscription service that uses LEGO bricks to bring stories to life. When you sign up for a Brick Based Learning subscription, your young LEGO fan will receive a monthly kit featuring a high-quality picture book (see upcoming books here), an assortment of LEGO bricks, and suggested brick building challenges that encourage your child to process the story at a deeper level.
In addition, each month's kit includes a link to download over 100 pages of digital content that you can use to extend the fun and learning. For homeschoolers, this content is an invaluable tool for creating a rich and engaging literature unit study to complement the LEGO brick building challenges.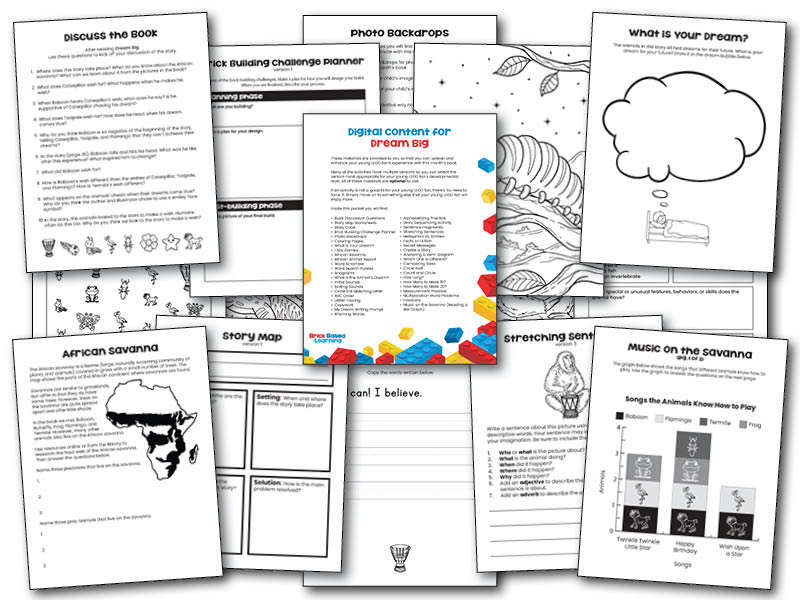 Overall, subscribing to Brick Based Learning can help homeschool parents create a fun and engaging experience with books that promotes creativity, collaboration, and hands-on learning experiences.
See what this homeschooling mom had to say about her experience using Brick Based Learning's monthly kits in her homeschool:

Main photo credit: Kelly Sikkema on Unsplash