July's Brick Based Learning Kit focuses on forgiveness and the importance of letting go of anger with the humorous and delightful book The Sour Grape by Jory John.
You'll never look at a piece of fruit the same after you experience The Sour Grape!
But more importantly, your young LEGO fan will have the opportunity to develop emotional regulation tools as they experience all this kit has to offer.
The Sour Grape kit is packed with so many fun items, including:
A hard cover copy of the book

Color coordinating LEGO bricks

A curated selection of LEGO brick building challenges based on the story

Directions for making a LEGO mosaic of a grape bunch

Specialty LEGO bricks with a fruit theme

Suggestions for other fruit-related activities you can do at home or in the classroom

A list of discussion questions to spark rich conversation about the book with children

Fruit jokes

Game board to encourage your young LEGO fan to work their way through all the activities included in the kit
Plus, every Brick Based Learning kit comes with access to over 100 pages of digital worksheets and activities that further the learning related to that book.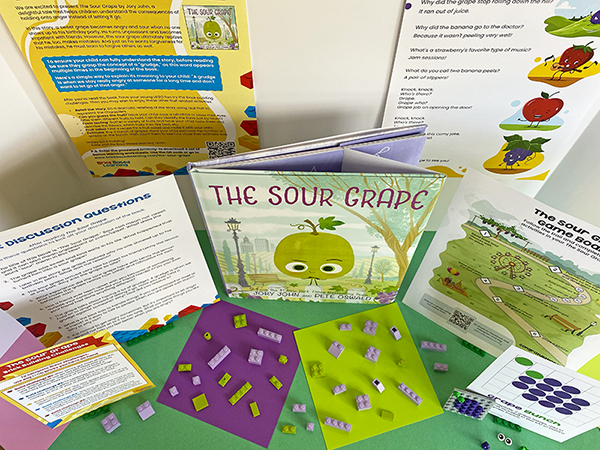 What we love about this book
In the story, a friendly grape becomes angry and sour when no one shows up to his birthday party. The grape's behavior turns unpleasant, and he becomes impatient with friends. However, the sour grape ultimately realizes that he, too, makes mistakes. And just as he wants forgiveness for his mistakes, he must learn to offer forgiveness to others.
The Sour Grape offers messages about being kind and understanding when others make mistakes. It teaches children the value of focusing on the positive things in life rather than dwelling in bitterness. And it provides examples for positive emotional regulation.
It also uses language in delightfully clever ways, making it equally enjoyable for adults as for kids (while still remaining G-rated).
(Tip for teachers: all the words with multiple meanings provide a great opportunity for teaching homonyms!)
As children complete the activities in the kit, they will reflect on what happens when they hold on to anger instead of letting it go. And they will further consider the importance of forgiveness – for both themselves and for others.
As you can see, the activities in this kit offer tools for children to develop creative expression and emotional regulation.
What's included in the Sour Grape kit from Brick Based Learning
Check our online shop to see if we still have this kit in stock.
In addition to the book The Sour Grape, this kit also contains a pack of gently used LEGO pieces for young LEGO fans to add to their brick collection. The LEGO bricks included in this kit are purple and lime green to coordinate with the colors in the book.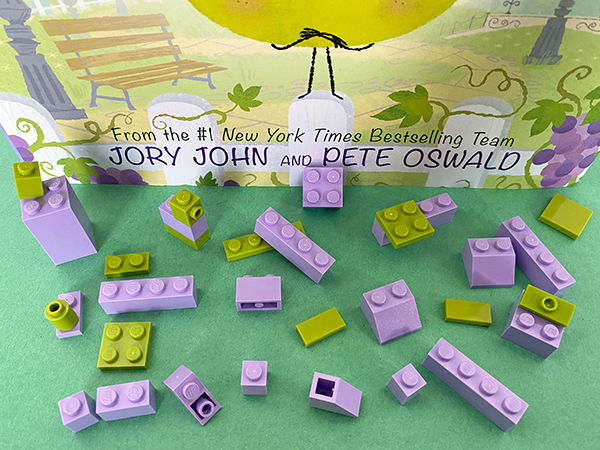 After reading the story, children will be tasked with completing five LEGO brick building challenges specially created for this book.
The challenges range from concrete challenges requiring little abstract or higher order thinking to more advanced challenges that encourage kids to think carefully about the themes in the book and apply those lessons to their own lives.
For example, children learning about forgiveness will build something to show how they want to be treated when they are in need of forgiveness.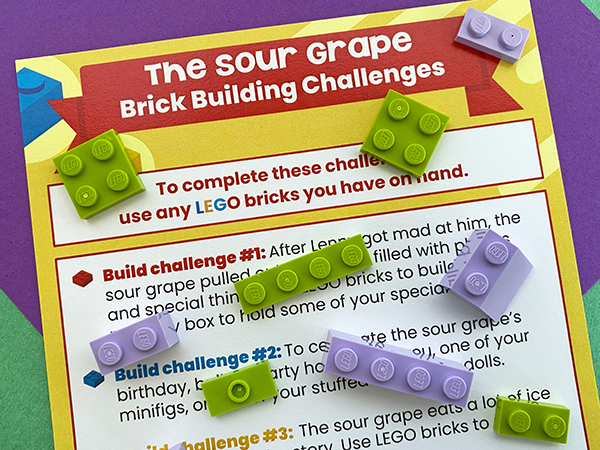 The extras in this month's kit have to do with fruit and LEGO bricks.
Each kit includes several pieces of LEGO fruit, plus a pair of eyeballs like the characters in the story.
Further, each kit has directions for making a mosaic of a grape bunch, as well as the LEGO pieces needed to create the mosaic.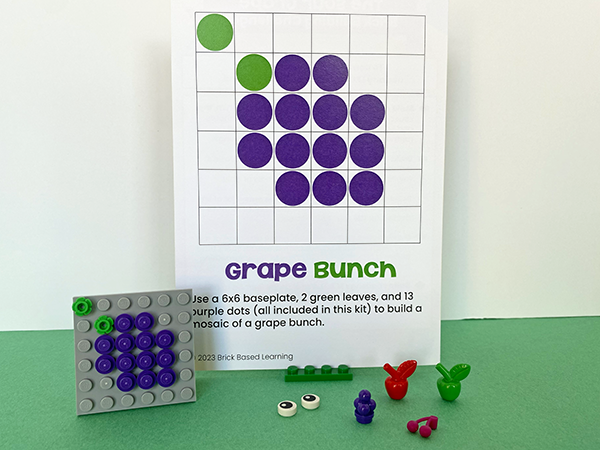 All Brick Based Learning kits come with a game board that motivates children to do all of the included activities.
This design of this month's game board features a park with imagery from the book.
Kids get to cross off each number as they do different activities, and will feel a sense of accomplishment when they complete all the steps on the game board.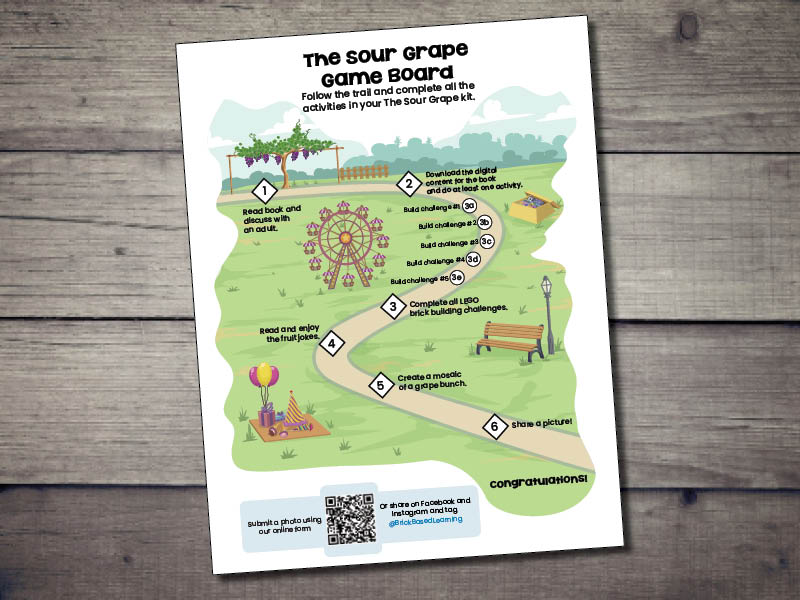 Finally, the kit includes a note to the adult with information about the book, tips for reading it out loud, and steps to take after reading the book to continue to engage and delight young LEGO fans.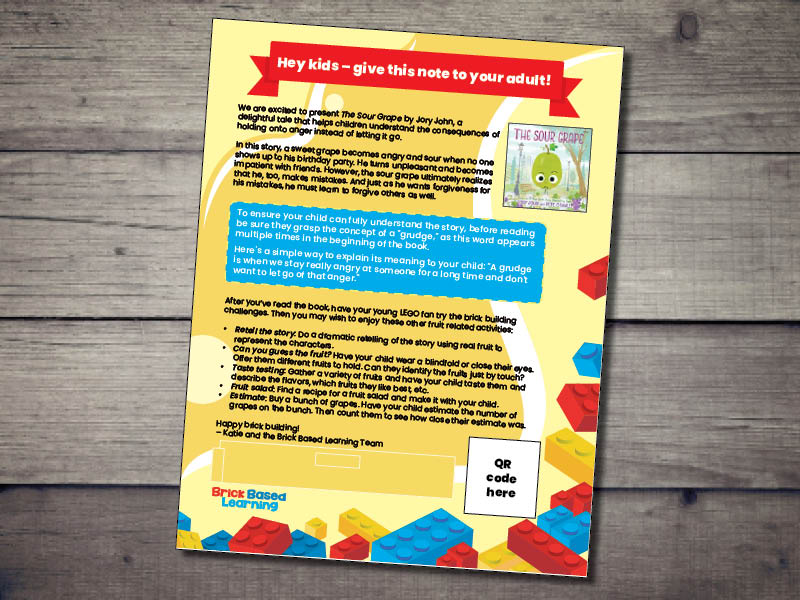 Inside each kit we always include a link and password to a webpage where you can download more than 100 pages of worksheets and activities related to the book.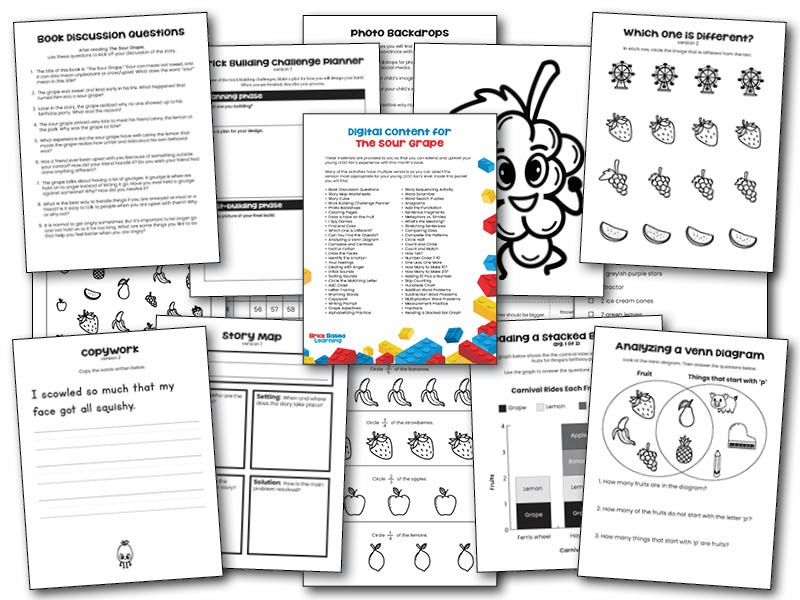 Here is a partial list of the digital content available in the Sour Grape Brick Based Learning kit:
Book Discussion Questions

Story Map Worksheets

Story Cube

Brick Building Challenge Planner

Photo Backdrops

Identify the Emotions

Dealing with Anger

Coloring Pages

I Spy Games

Which One is Different?

Writing Prompts

Early language activities: letter sounds, letter tracing, alphabet, rhyming words

Copywork

Alphabetizing Practice

Story Sequencing Activity

Word Games: word scramble, word search puzzles, anagrams

Elementary language arts: punctuation, parts of speech, grammar

Math activities: sizes, patterns, counting, measurement, number order, addition, subtraction, multiplication, fractions
There's so much here to enjoy, and plenty of content to do an entire learning unit based on this wonderful book.
The Sour Grape kit from Brick Based Learning is perfect for parents, homeschoolers, educators, and caregivers who wish to engage their young LEGO fans with wonderful books, engaging LEGO building challenges, and an array of digital content to extend the fun and learning.
---
Want to learn more about Brick Based Learning? Ready to delight a young LEGO fan in your life by sending a monthly kit straight to their door? Discover how we bring books to life by pairing them with LEGO bricks and brick building challenges at Brick Based Learning.