June's Brick Based Learning Kit focuses on unleashing children's empathy with the delightful book In the Neighborhood by Rocio Bonilla.
The In the Neighborhood kit includes a hard cover copy of the book, color coordinating LEGO bricks, a curated selection of LEGO brick building challenges based on the story, materials for a science activity to grow a "beanstalk," and special paper to build an origami house using the Japanese art of paper folding.
Plus, every kit comes with access to over 100 pages of digital worksheets and activities that further the learning.
The book at the heart of this kit, In the Neighborhood, will captivate readers with its relatable characters, heartwarming plot, and powerful message of unity. Adults will find that this kit offers fantastic tools for discussing with children the assumptions we make about other people. . . and why we need to move past them to truly get to know people.
As children complete the activities in the kit, they will reflect on the importance of getting to know others and the value of having a close-knit community. The activities in this kit provide a pathway to increase children's understanding and empathy of others.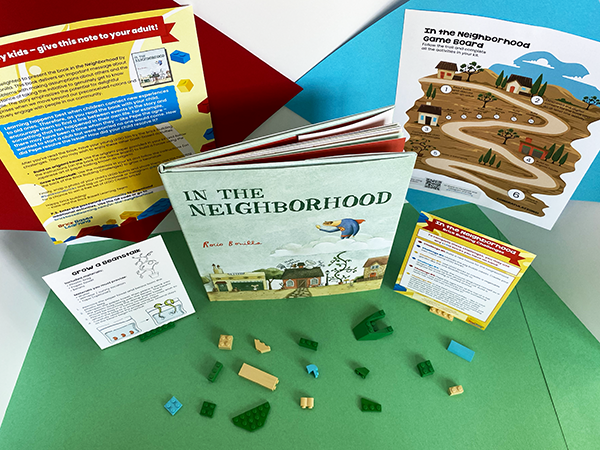 What we love about this book
In the Neighborhood explores the issue of judging others without truly getting to know them.
In the story, we are introduced to a group of neighbors who, despite living in close proximity to one other, remain strangers.
This is largely because they have all assumed things about their neighbors that make them afraid to get to know them.
However, everything changes when the internet goes out and two neighbors join forces to fix things.
This small incident sets off a chain reaction, uniting everyone and transforming the neighborhood into a vibrant community.
In the Neighborhood reminds us of the delightful surprises and genuine connections that await us when we actively engage with those around us. And the book does all this with an engaging and humorous story line that will have kids laughing out loud.
What's included in the In the Neighborhood kit from Brick Based Learning
Check our online shop to see if we still have this kit in stock.
In addition to the book In the Neighborhood, this kit also contains a pack of gently used LEGO pieces for young LEGO fans to add to their brick collection. The LEGO bricks included in this kit are tan, green, and sky blue to coordinate with the colors in the book.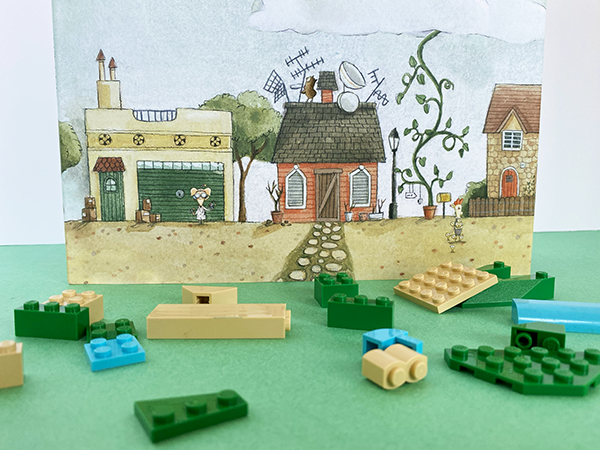 After reading the story, children will be tasked with completing six LEGO brick building challenges.
All of the challenges are related to the book, and they range from concrete challenges requiring little abstract or higher order thinking to more advanced challenges that encourage kids to think carefully about the themes in the book and apply those lessons to their own lives.
For example, children learning about the ways that communities come together will build something to show how they gather in their own communities.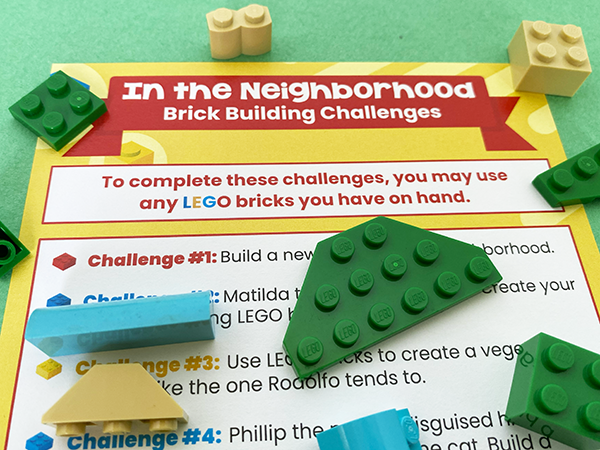 There are two extra items in this kit that kids will enjoy.
In the story we meet Pepe the ogre, who lives at the top of a beanstalk. Each kit includes materials for children to grow their own beanstalk. The addition of this simple science activity provides an enchanting, hands-on learning opportunity for young kidsa.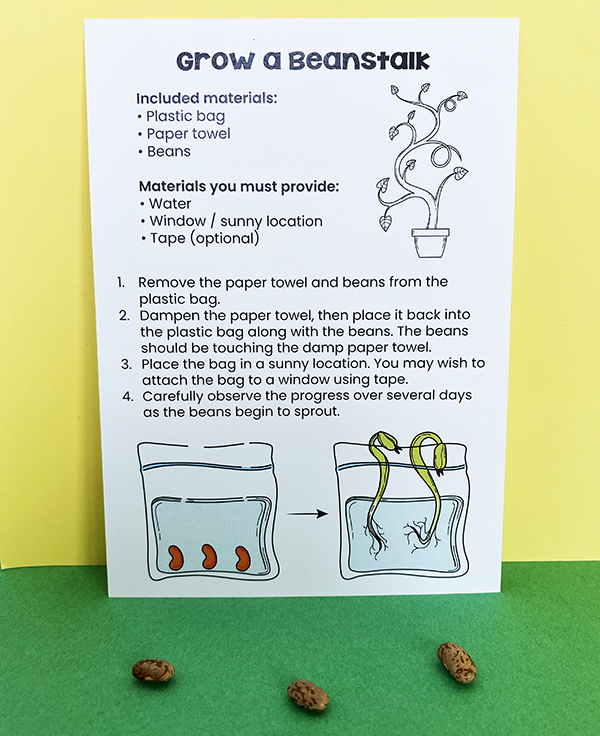 The kit also comes with instructions and materials for an creating origami house. Children will engage in the Japanese art of paper folding to create houses for a neighborhood.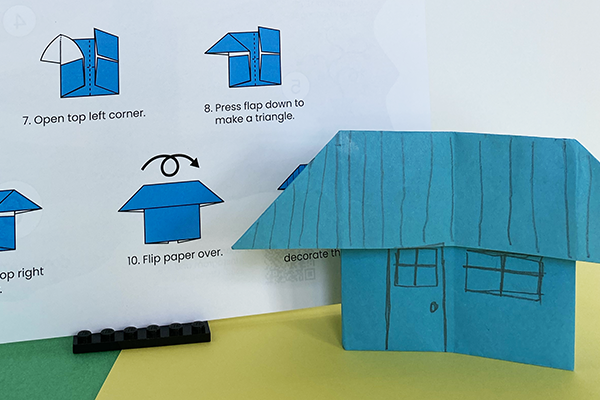 All of our kits come with a game board that encourages children to do all of the included activities.
This design of this month's game board features a neighborhood with houses – and a bean stalk!
Kids get to cross off each number as they do different activities, and will feel a sense of accomplishment when they complete all the steps on the game board.
Finally, the kit includes a note to the adult with information about the book, tips for reading it out loud, and steps to take after reading the book to continue to engage and delight the young LEGO fan.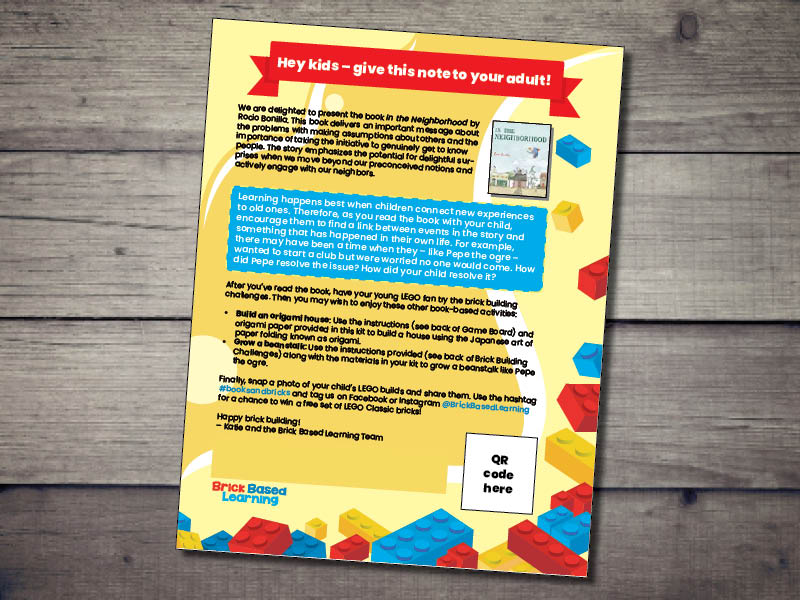 Inside each kit we always include a link and password to a webpage where you can download more than 100 pages of worksheets and activities related to the book.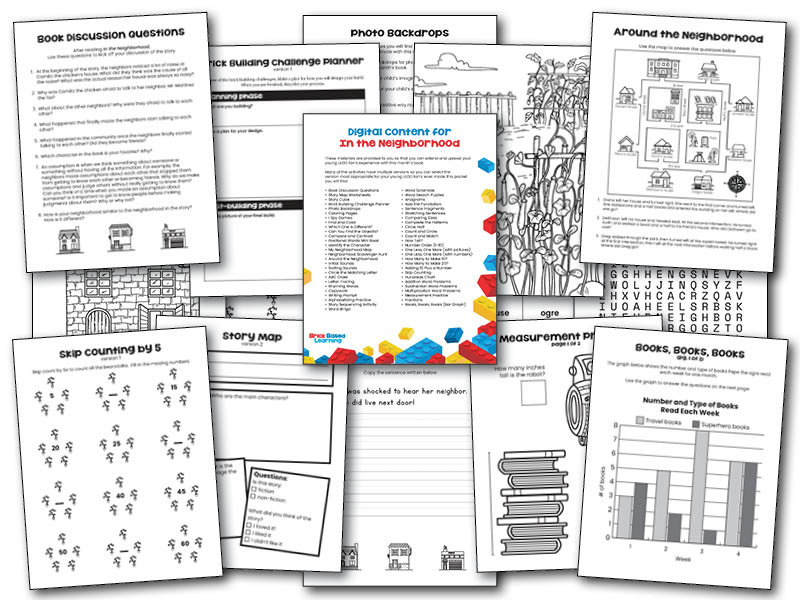 Here is a partial list of the digital content available in the In the Neighborhood Brick Based Learning kit:
Book Discussion Questions

Story Map Worksheets

Story Cube

Brick Building Challenge Planner

Photo Backdrops

Map Skills

Identify the character

Coloring Pages

I Spy Games

Which One is Different?

Writing Prompts

Early language activities: letter sounds, letter tracing, alphabet, rhyming words

Copywork

Alphabetizing Practice

Story Sequencing Activity

Word Games: word scramble, word search puzzles, anagrams

Elementary language arts: punctuation, parts of speech, grammar

Math activities: sizes, patterns, counting, measurement, number order, addition, subtraction, multiplication, fractions
There's so much here to enjoy, and plenty of content to do an entire learning unit based on this wonderful book.
The In the Neighborhood kit from Brick Based Learning is perfect for parents, homeschoolers, educators, and caregivers who wish to engage their young LEGO fans with wonderful books, engaging LEGO building challenges, and an array of digital content to extend the fun and learning.
---
Want to learn more about Brick Based Learning? Ready to delight a young LEGO fan in your life by sending a monthly kit straight to their door? Discover how we bring books to life by pairing them with LEGO bricks and brick building challenges at Brick Based Learning.