In the spirit of adventure, May's Brick Based Learning Kit features the book Caves by Nell Cross Beckerman.
The Caves kit includes a hard cover copy of the book, color coordinating LEGO bricks, six brick building challenges based on the book, a buildable paper model of a cave, and instructions for growing your own cave formation at home or in the classroom.
Plus, every kit comes with access to over 100 pages of digital worksheets and activities that further the learning.
Caves has a literary structure that weaves together both poetry and expository text.
Each spread of the book uses poetry to hook the reader into the narrative, then follows up with expository text to describe a particular cave or cave feature.
And as with all of our kits, children will be able to dive right into the LEGO brick building challenges after they read the book.
By the time young LEGO fans complete the activities in the kit, they will know a great deal about caves!
However, these activities are not just designed to teach children about the science of caves; this kit also focuses on the character trait of being adventurous.
Young readers will be inspired to seek out their own adventures, whether those be underground or above.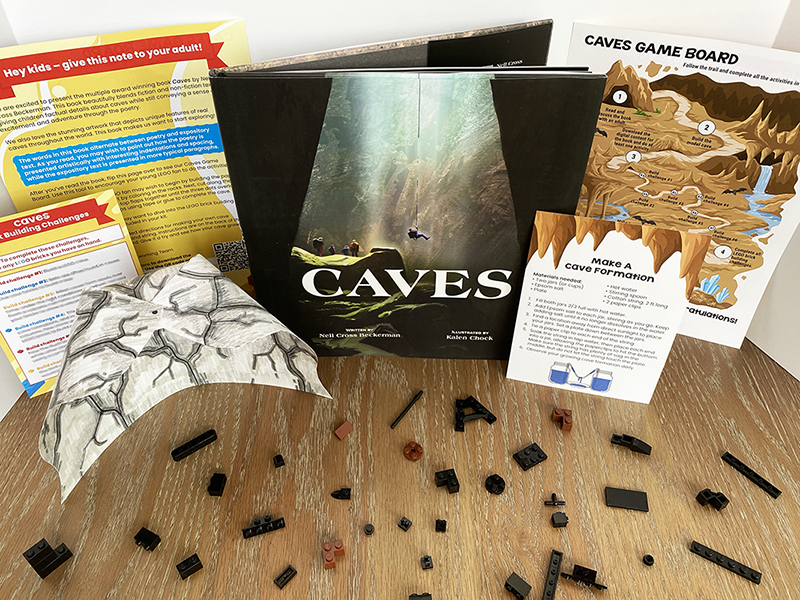 What we love about this book
Caves is a multiple award winning book that beautifully blends fiction and non-fiction text, offering children lovely, factual details about caves while still conveying a sense of excitement and adventure through the (non-rhyming) poetry.
The book also features stunning artwork that depicts the unique features of real caves throughout the world. The illustrator's clever use of light and dark helps to focus the reader's attention on key parts of the caves as if experiencing them like a real caver would with a flashlight.
What's included in the Caves kit from Brick Based Learning
Check our online shop to see if we still have this kit in stock.
In addition to the book Caves, this kit also contains a pack of gently used LEGO pieces for young LEGO fans to add to their brick collection. The LEGO bricks included in this kit are black and brown to coordinate with the colors in the book.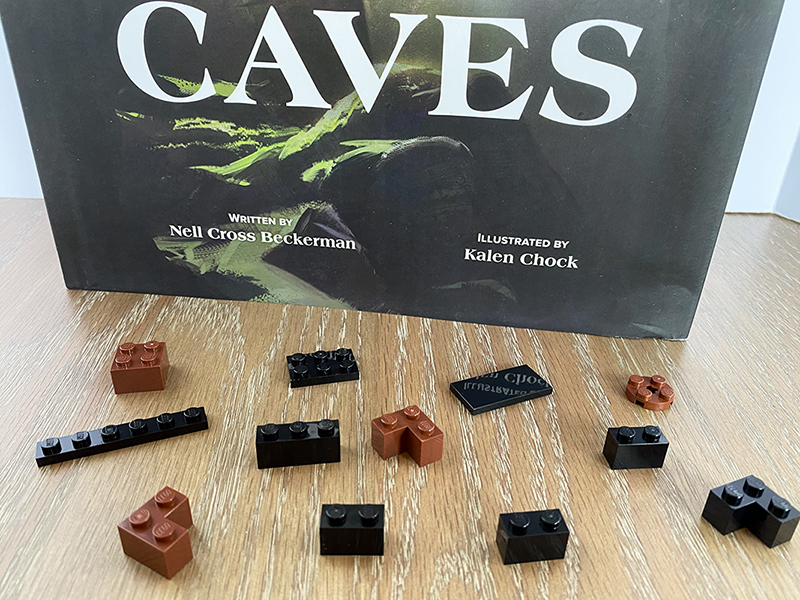 Using the bricks from their kit and others from their LEGO collection, children are tasked with completing six LEGO brick building challenges.
All of the challenges are related to the book, and they range from concrete challenges requiring little abstract or higher order thinking to more advanced challenges that encourage kids to think carefully about the themes in the book.
As children work through these challenges, they will be review different cave formations such as stalactites and stalagmites, and they will also consider what kind of adventure they would enjoy.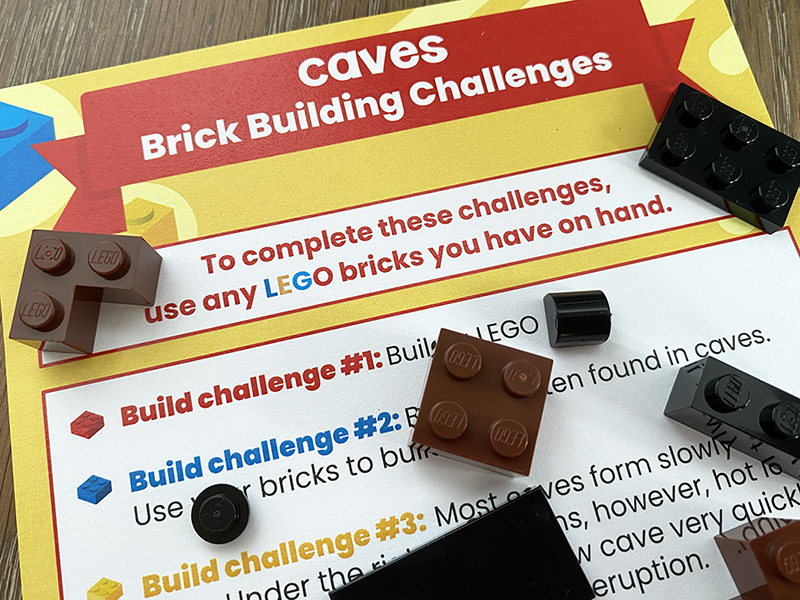 There are two extra items in this kit that kids will enjoy.
The first is a paper model cave kids can color and build.
Once built, this cave can be a place to showcase some of their cave-related LEGO builds. It can even serve as a fantastic backdrop for photographing some of their brick building challenges!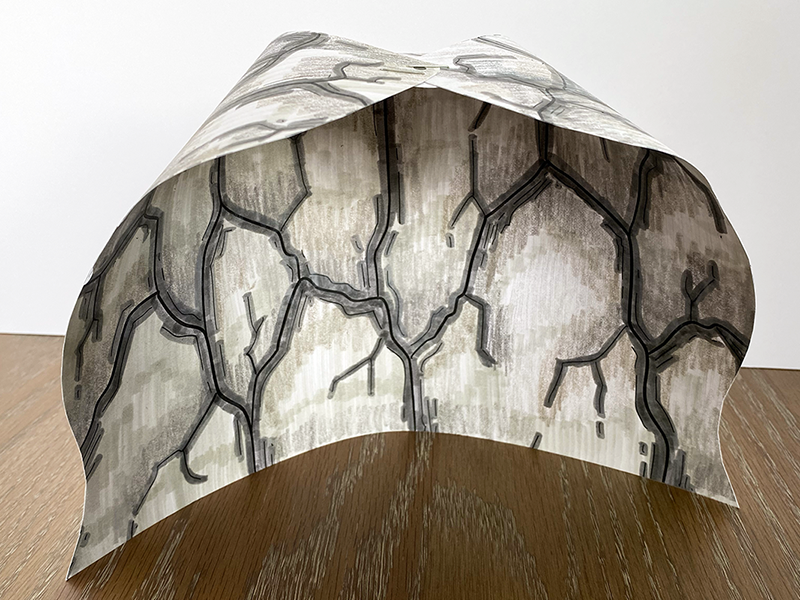 The kit also comes with instructions for growing your own cave formation.
Using just a few simple items you may already have on hand, your young LEGO fan will experience the thrill of watching their cave formations grow over time, just as they do in a real cave!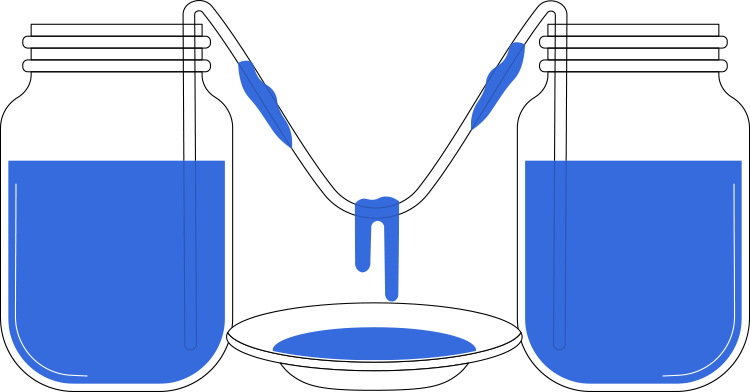 All of our kits come with a game board that encourages children to do all of the included activities.
This month's game board features some cool cave imagery to fit the theme. Kids get to cross off each number as they do different activities, and will feel a sense of accomplishment when they complete all the steps on the game board.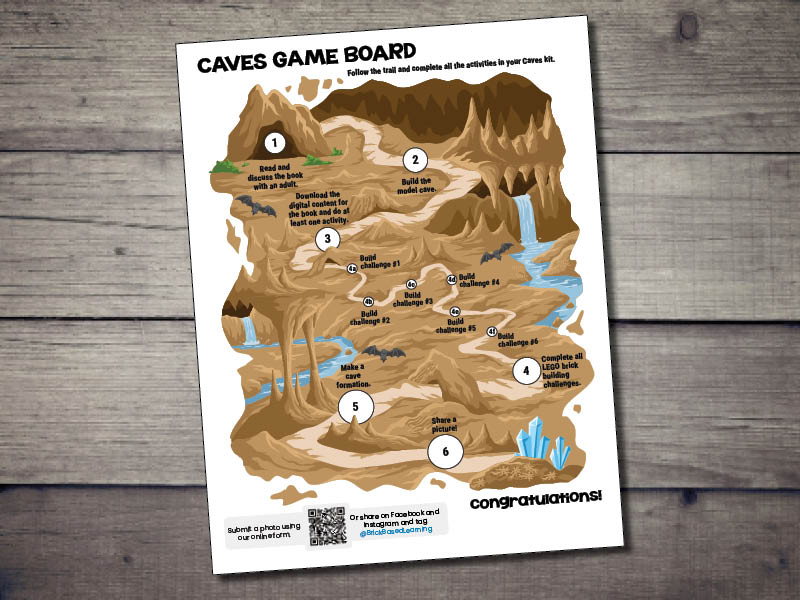 Finally, the kit includes a note to the adult with information about the book, tips for reading it out loud, and steps to take after reading the book to continue to engage and delight the young LEGO fan.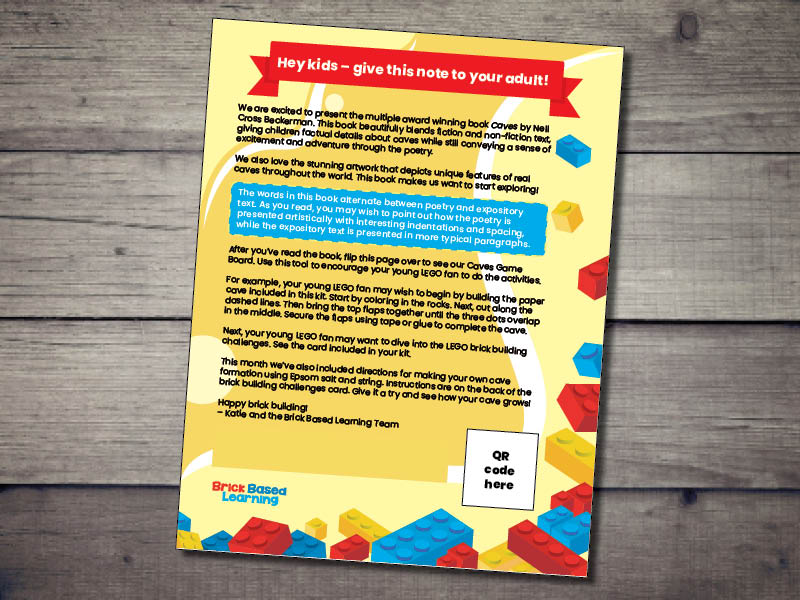 Inside each kit we always include a link and password to a webpage where you can download more than 100 pages of worksheets and activities related to the book.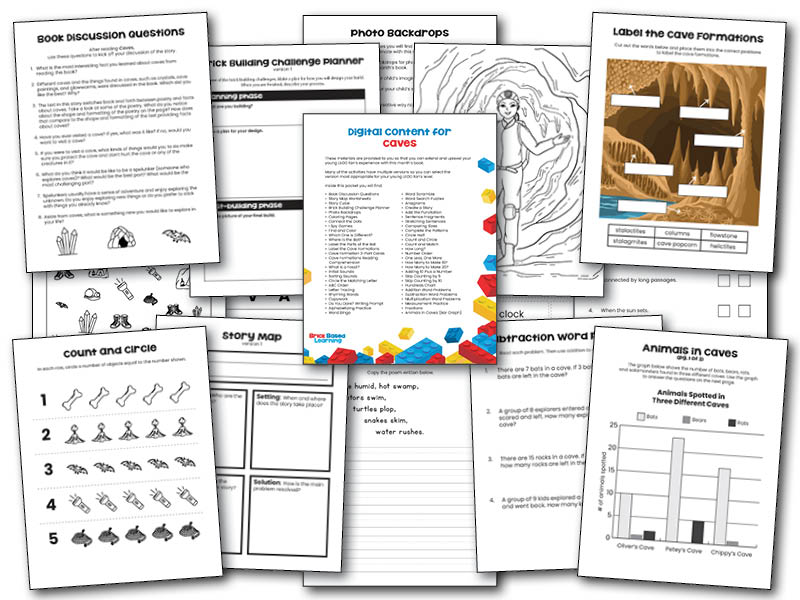 Here's a partial list of the digital content available in the Caves Brick Based Learning kit:
Book Discussion Questions

Story Map Worksheets

Story Cube

Brick Building Challenge Planner

Photo Backdrops

Cave science

Bat anatomy

Coloring Pages

I Spy Games

Which One is Different?

Writing Prompts

Early language activities: letter sounds, letter tracing, alphabet, rhyming words

Copywork

Alphabetizing Practice

Story Sequencing Activity

Word Games: word scramble, word search puzzles, anagrams

Elementary language arts: punctuation, parts of speech, grammar

Math activities: sizes, patterns, counting, measurement, number order, addition, subtraction, multiplication, fractions
There's so much here to enjoy, and plenty of content to do an entire learning unit on caves if you wanted to.
The Caves kit from Brick Based Learning is perfect for parents, homeschoolers, educators, and caregivers who wish to engage their young LEGO fans with wonderful books, engaging LEGO building challenges, and an array of digital content to extend the fun and learning.
---
Want to learn more about Brick Based Learning? Ready to delight a young LEGO fan in your life by sending a monthly kit straight to their door? Discover how we bring books to life by pairing them with LEGO bricks and brick building challenges at Brick Based Learning.