Few things in life are more precious than a good friend.
But finding a good friend can be tough.
After all, to have a friend, one needs to be a friend.
And for some kids, knowing how to be a good friend doesn't come easy.
As such, nurturing a child's friendship skills is like giving a child the keys to a treasure trove of lifelong relationships.
The social and emotional skills needed to be a good friend empower children to communicate, cooperate, and understand others effectively.
From playgrounds to classrooms, these social and emotional abilities foster positive interactions, building a strong foundation for a future filled with strong, healthy friendships.
Books and LEGO Bricks Support Friendship Skills
August's Brick Based Learning Kit featuring the book Frank and Bert teaches social and emotional skills as it asks children to reflect on how to get their own needs met in a friendship while also considering the needs of others.
Specifically, Frank and Bert highlights the joy can can come from making a friend happy rather than beating them in a game.
This tale offers adults the opportunity to discuss with kids if and when people should sacrifice their own desires for the happiness of others.
Our Frank and Bert Kit is packed with materials to help children develop important friendship skills that will support them through a lifetime of forming quality friendships with others.
What's included in the Frank and Bert kit from Brick Based Learning
The Frank and Bert kit is packed with so many fun items, including:
A hard cover copy of the book Frank and Bert by Chris Naylor-Ballesteros

Color coordinating LEGO bricks

A curated selection of LEGO brick building challenges based on the story

A list of discussion questions to spark deep conversations about the book

Bundle of yarn with instructions for finger knitting a gift for a friend

Access to 100+ pages of digital worksheets and activities that further the learning related to that book.

Game board to encourage your young LEGO fan to work their way through all the activities included in the kit

Certificate of achievement for learning to be a good friend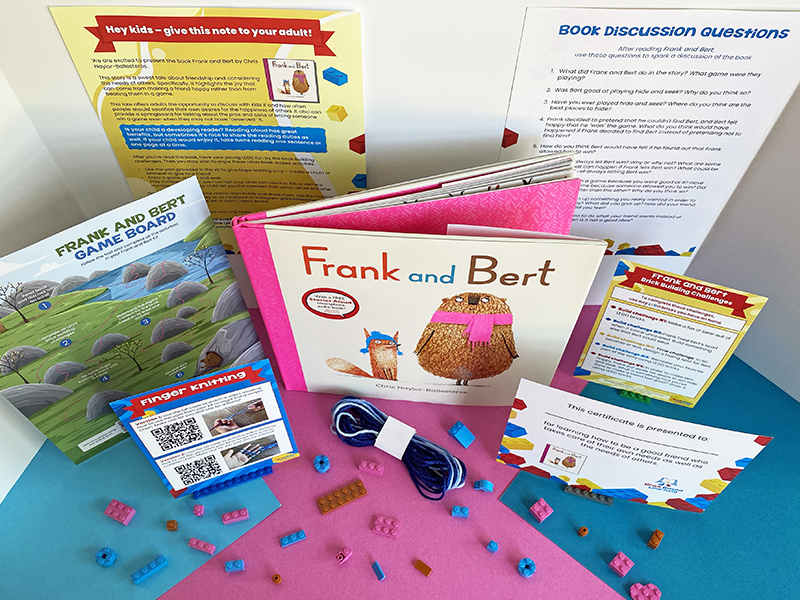 Check our online shop to see if we still have this kit in stock.
Let's take a closer look at some of the materials included in the Frank and Bert Kit from Brick Based Learning.
Since Brick Based Learning is all about combining books and LEGO bricks to supercharge children's social and emotional growth, the two stars of the kit are the Frank and Bert book and the pink, blue, and brown LEGO bricks that color coordinate with the book.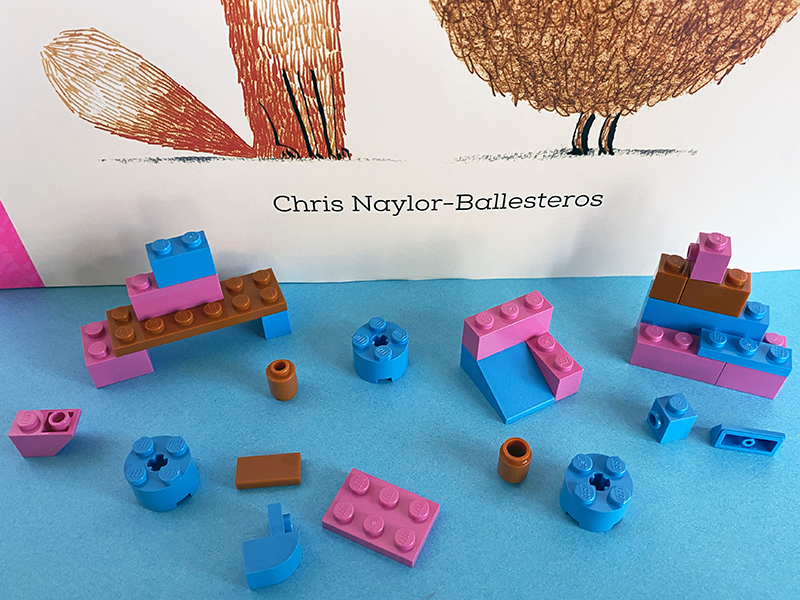 Another key component of Brick Based Learning's program for developing social and emotion skills is to foster Socratic discussion after reading each book.
During a Socratic discussion, the adult asks open-ended questions and the child actively engages by asking their own questions.
This type of dialogue stimulates children's critical thinking, helps them uncover new ideas, and fosters deeper insights about the theme of the kit.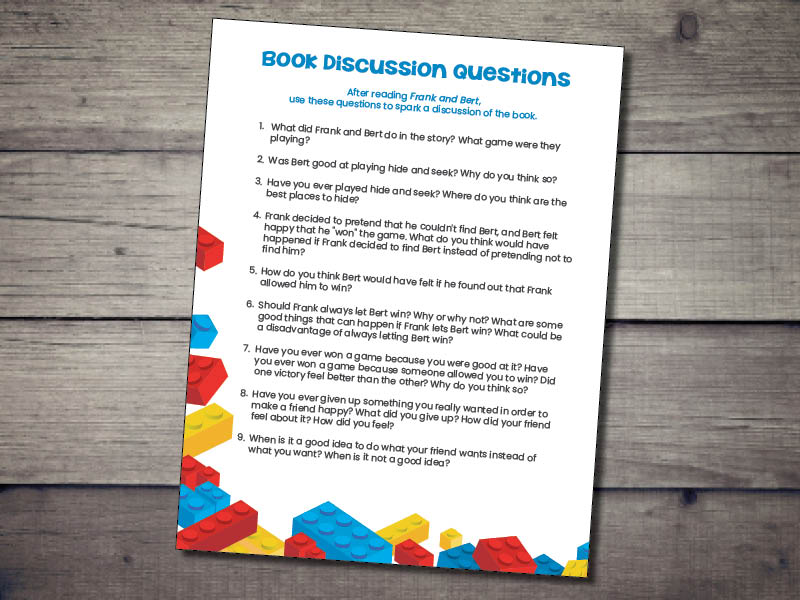 After reading the story, children will be tasked with completing five LEGO brick building challenges specially created for this book.
The challenges range from concrete challenges requiring little abstract or higher order thinking to more advanced challenges that encourage kids to think carefully about the theme of friendship in the book and apply it to their own lives.
For example, children learning about friendship will build something to show a way that they are a good friend to others.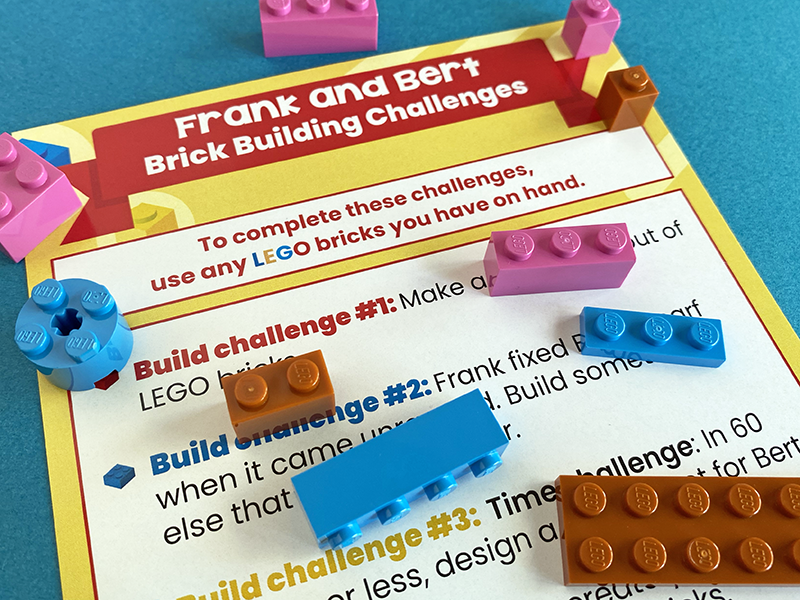 There's also a fun surprise activity in this month's kit that fits perfectly with the book and its theme of friendship.
In the story, one character knits a scarf for the other. Inspired by this act of friendship, the kit comes with a bundle of yarn and instructions for finger knitting a chain.
We invite children to knit one chain for themselves and one to give to a friend.
All Brick Based Learning kits come with a game board that motivates children to do all of the included activities.
This design of this month's game board shows the two characters from the book playing hide and seek.
Kids get to cross off each number as they do different activities, and will feel a sense of accomplishment when they complete all the steps on the game board.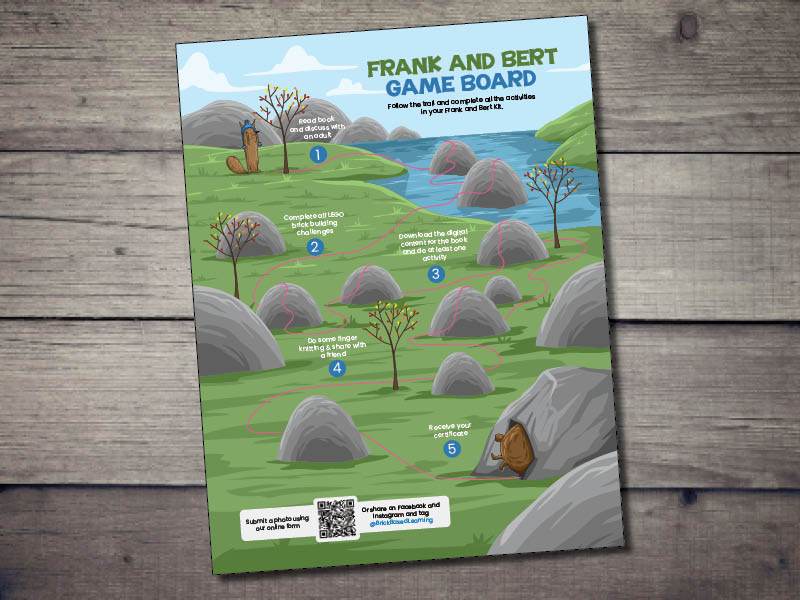 The kit also includes a note to the adult with information about the book, tips for reading it out loud, and steps to take after reading the book to continue to engage and delight their young LEGO fans.
Inside each kit we always include a link and password to a webpage where you can download more than 100 pages of worksheets and activities related to the book.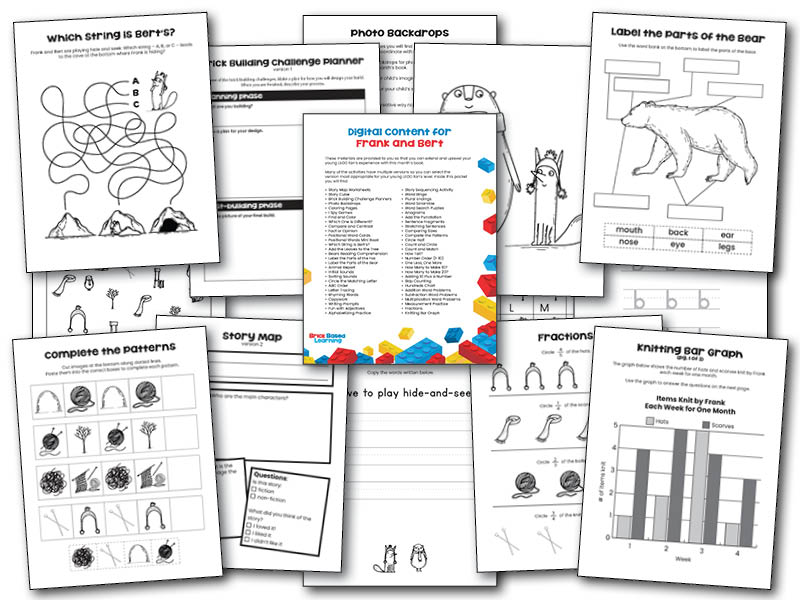 Here is a partial list of the digital content available in the Frank and Bert Brick Based Learning Kit:
Story Map Worksheets

Story Cube

Brick Building Challenge Planner

Photo Backdrops

Coloring Pages

I Spy Games

Which One is Different?

Label the Parts of the Bear

Label the Parts of the Fox

Animal Report

Writing Prompts

Early language activities: letter sounds, letter tracing, alphabet, rhyming words

Copywork

Alphabetizing Practice

Word Games: word scramble, word search puzzles, anagrams

Elementary language arts: punctuation, parts of speech, grammar

Math activities: sizes, patterns, counting, measurement, number order, addition, subtraction, multiplication, fractions
And finally, after children have completed the kit activities and developed their skills as a good friend, they will receive a certificate to celebrate their achievement.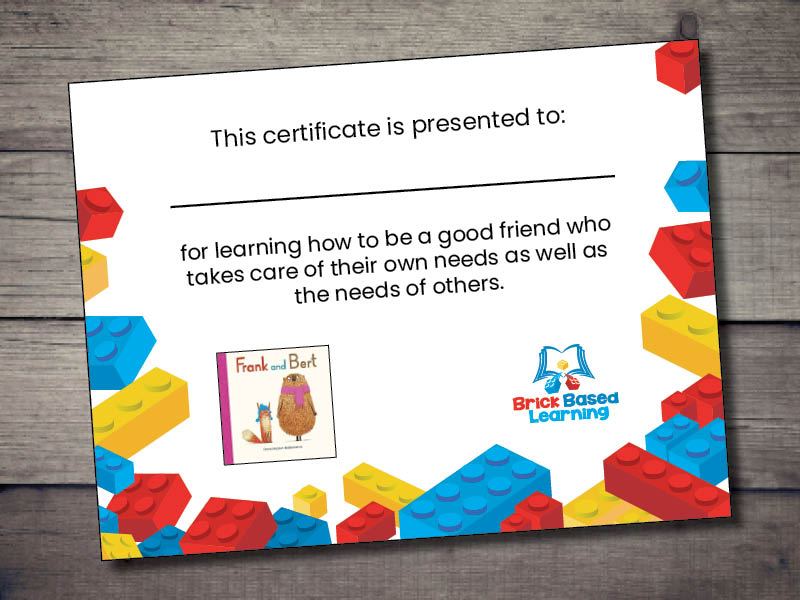 There's so much here to enjoy, and plenty of content to do an entire learning unit based on this wonderful book.
The Frank and Bert Kit from Brick Based Learning is perfect for parents, homeschoolers, educators, and caregivers who wish to teach important social and emotional learning skills through wonderful books, engaging LEGO building challenges, and deep conversations.
---
Ready to unleash a young child's potential? Discover how we supercharge social and emotional growth by pairing books with LEGO brick building challenges at Brick Based Learning.