February's Brick Based Learning kit features the book Ten Ways to Hear Snow by Cathy Camper.
Not only is this a perfect book for this time of year when so many of us are experiencing snowy weather, we've included some wonderful LEGO brick building challenges in this month's kit that are designed to get kids' creative juices flowing.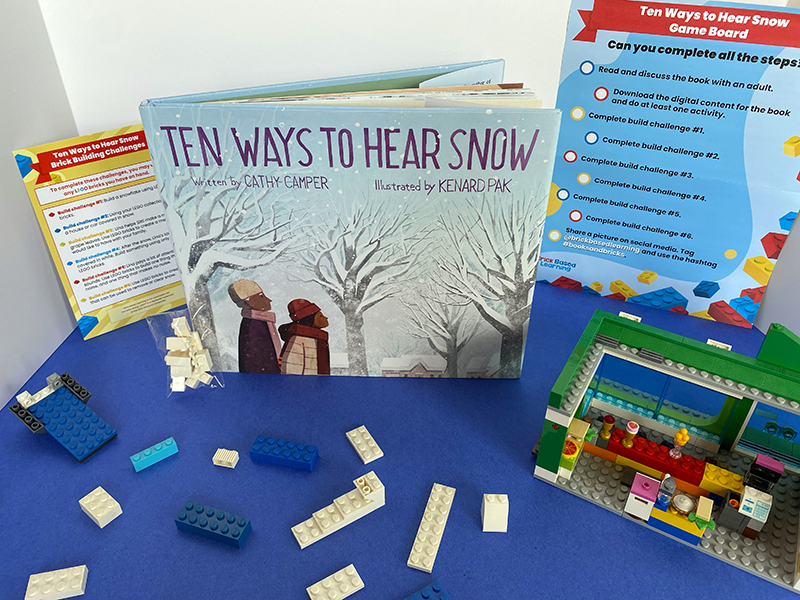 What we love about this book
This book is coming at the perfect time, as February is the coldest, snowiest month of the year in many parts. As such, many kids can relate to waking up and finding the outdoors transformed into a snowy wonderland.
But aside from being the appropriate time of the year, we love this book's use of rich, descriptive language that includes similes, fun adjectives, and onomatopoeia (words such as thwomp or ploompf that imitate the sounds associated with the objects or actions they refer to). From a language arts perspective, there is just so much to explore with kids to help them develop their vocabulary and their appreciation for beautiful writing.
We also adore the sweet story line about Lina's relationship with her grandmother. Lina wants to make a grape leaf dish with her grandmother, and won't be deterred from getting to her grandmother's home just because the ground is covered in snow.
However, Lina's journey to her grandmother's house ends up being a musical delight for the ears, as Lina begins to focus on all the new sounds she hears related to the snow. Whether it's the sound of someone shoveling snow from the sidewalk or the sound of snow falling from branches, Lina takes note of all the different sounds the snow makes.
One of the more delightful aspects of the book is the way that author uses onomatopoeia, or words that imitate the sounds they describe., for each of the sounds of snow that Lina identifies. Adults can invite children to have fun with these words as you read aloud. Encourage children to say the words. If possible, try to make the sounds yourselves, either in the snow or with objects you have on hand. Discuss whether the words actually sound like the action they describe. There's so much potential here to have fun with language!
What's included in this month's Brick Based Learning kit
Check our online shop to see if we still have any kits in stock that feature this book.
In addition to the book Ten Ways to Hear Snow, this month's kit also contains a package of gently used LEGO bricks for young LEGO lovers to add to their LEGO collection. The LEGO bricks are all white to go with the snow theme from the book. (Having some white bricks on hand will come in handy for one of the brick building challenges!)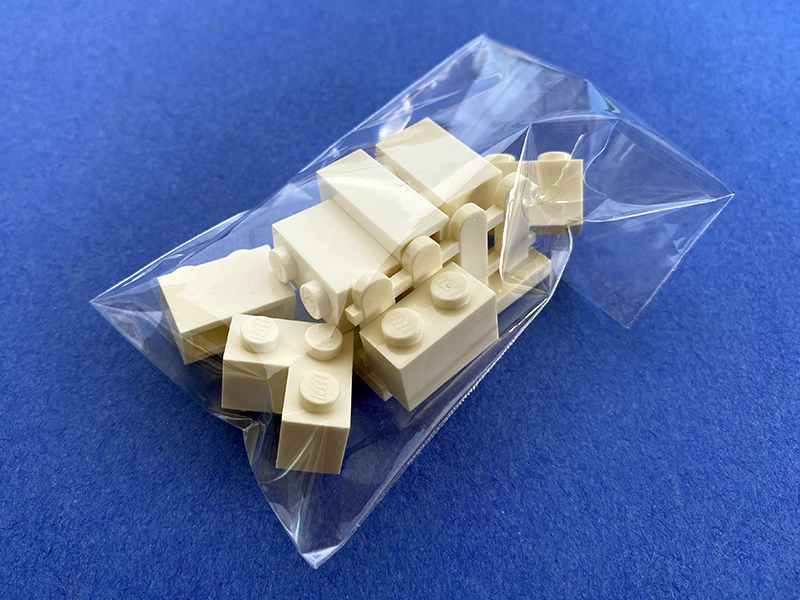 Children are also tasked with completing six LEGO brick building challenges. All of the challenges are based on the story, and they range from concrete challenges requiring little abstract or higher order thinking to more advanced challenges that encourage kids to think a bit more deeply about the themes in the book.
For example, Lina and her grandmother make a meal with grape leaves. One of the challenges asks children to use their collection of LEGO bricks to create a meal they would like to eat with their own family. This type of challenge helps children make text-to-self connections as they reflect on the behavior of the characters in the story and relate that to their own lives.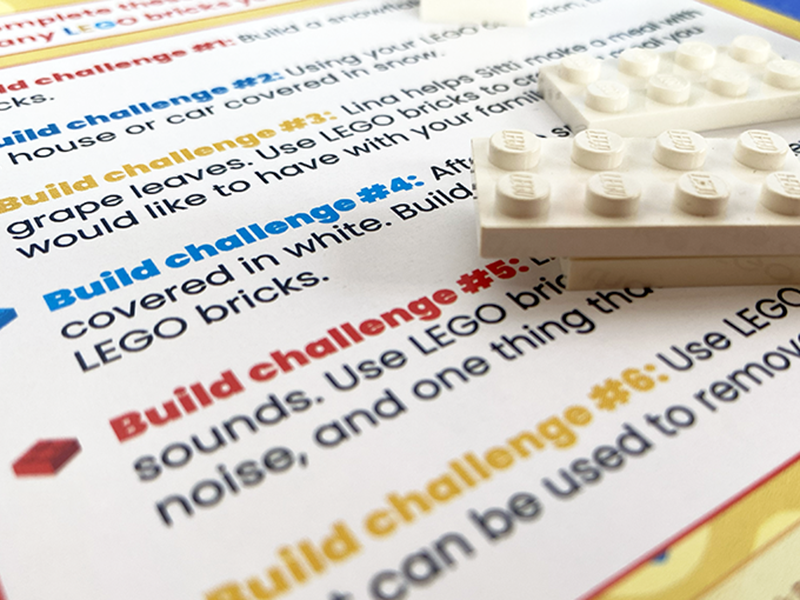 The kit also includes a game board that encourages children to engage with the materials by doing all of the steps and completing all of the brick building challenges.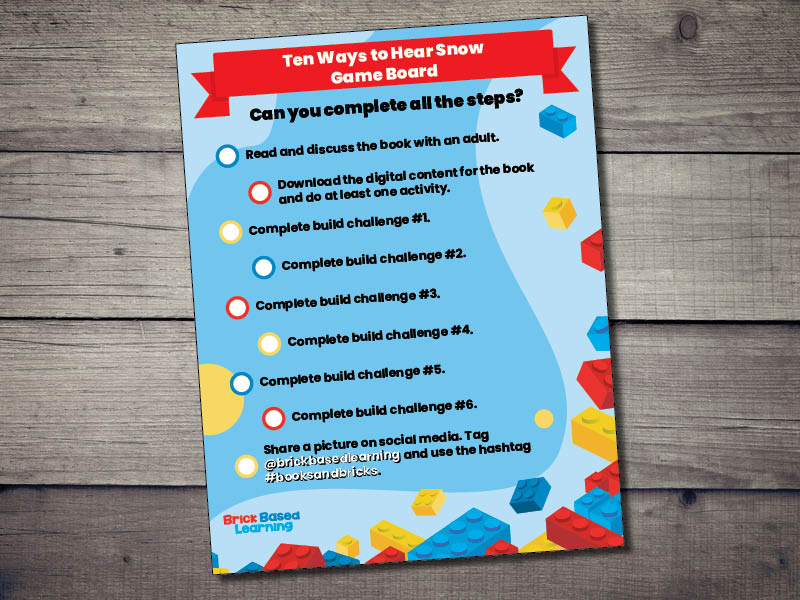 Finally, the kit includes a note to the adult with information about the books, tips for reading it out loud, and steps to take after reading the book to continue to engage and delight their young LEGO fans.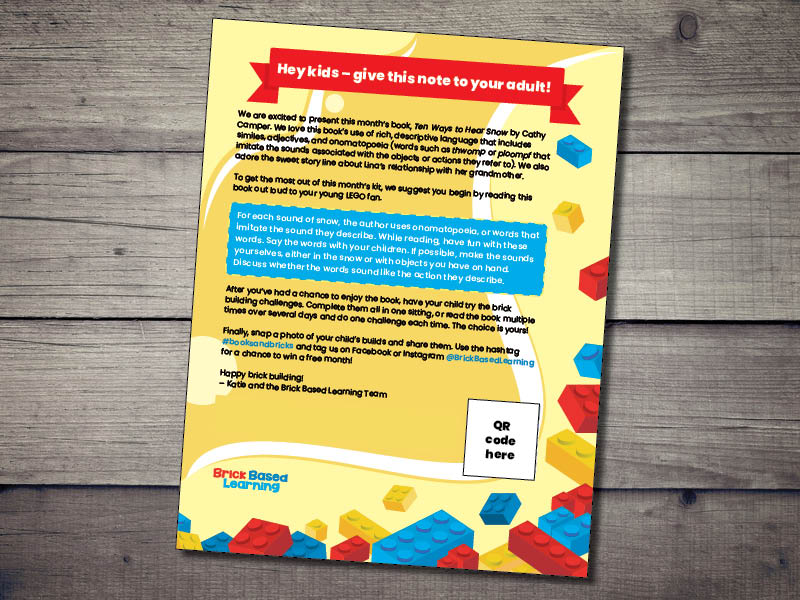 For example, adults receive a link and password to download more than 80 pages of worksheets and activities related to the book.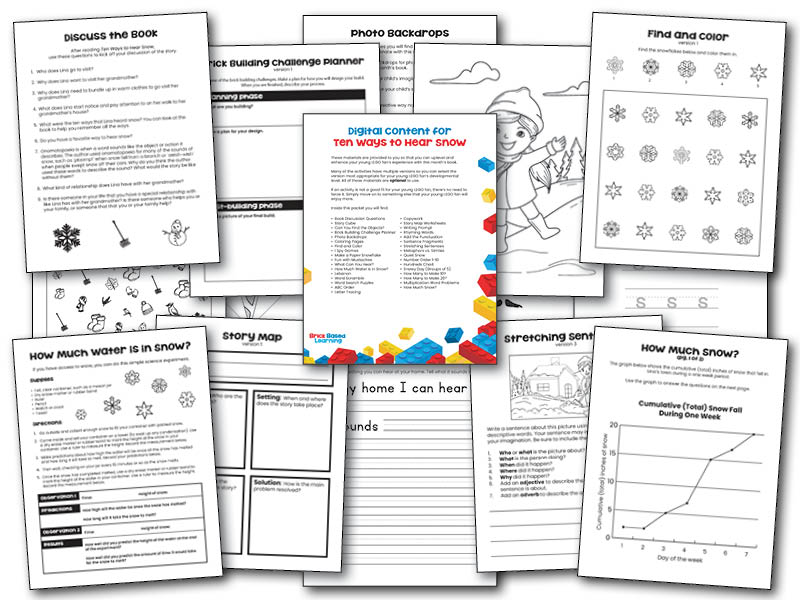 Here's a complete list of the digital content available with this month's Brick Based Learning kit:
Book Discussion Questions

Story Cube

Can You Find the Objects?

Brick Building Challenge Planner

Photo Backdrops

Coloring Pages

Find and Color worksheets

I Spy games

Make a Paper Snowflake

Fun with Mustaches

What Can You Hear?

How Much Water is in Snow?

Lebanon worksheet

Word Scramble

Word Search Puzzles

ABC Order

Letter Tracing

Copywork

Story Map Worksheets

Writing Prompt

Rhyming Words

Add the Punctuation

Sentence Fragments

Stretching Sentences

Metaphors vs. Similes

Quiet Snow

Number Order 1-10

Hundreds Chart

Snowy Day (Groups of 5)

How Many to Make 10?

How Many to Make 20?

Multiplication Word Problems

How Much Snow?
There's so much here to enjoy, and plenty of content to create an entire book study.
Want to learn more about Brick Based Learning? Ready to delight a young LEGO fan in your life with a monthly kit sent straight to their door? See more about how we bring books to life by pairing them with LEGO bricks and brick building challenges at Brick Based Learning.