March's Brick Based Learning Kit features the book Dream Big by Kat Kronenberg. The kit includes the book, color coordinating LEGO bricks, the six brick building challenges to inspire children to have big dreams of their own.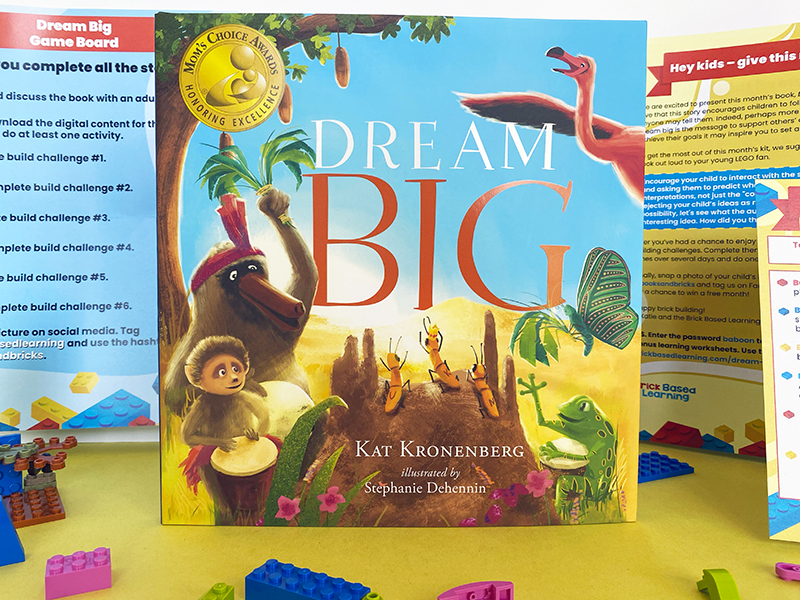 What we love about this book
Dream Big encourages children to follow their dreams, no matter what any naysayers may tell them. The message of this book is that kids (and adults!) should set a strong vision for themselves and never doubt that it can happen if they only believe.
However, a perhaps even more important message of the book is to support others' dreams. In the story, we meet a moody baboon who belittles the dreams of the other animals. But as Baboon sees their dreams come true, he has a change of heart and begins to believe that he, too, can achieve his biggest dream. The message for children is that watching others achieve their goals should provide inspiration for them to set and acheive their own goals.
In addition to the important message about having big dreams, this book can be used as a jumping off point to learn about Africa. The beautiful illustrations depict a savanna, and the story features some of the animals that are found on this unique biome. Further, the kit includes links to download worksheets that will encourage children to dive deeper into learning about the African continent, its biomes, and its animals.
What's included in this month's Brick Based Learning kit
Check our online shop to see if we still have any kits in stock that feature this book.
In addition to the book Dream Big, this month's kit also contains a package of gently used LEGO bricks for young LEGO fans to add to their LEGO collection. The LEGO bricks are an assortment of colors that coordinate well with the colors of the book.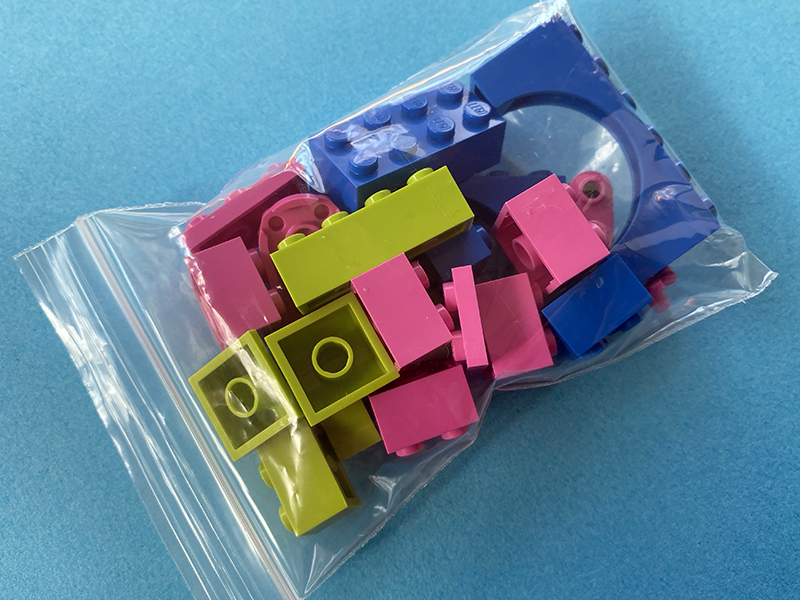 Children are also tasked with completing six LEGO brick building challenges. All of the challenges are based on the story, and they range from concrete challenges requiring little abstract or higher order thinking to more advanced challenges that encourage kids to think deeply about the themes in the book.
For example, each of the animals in the story has a special wish that comes true during the course of the story. One of the LEGO brick building challenges encourages children to use LEGO bricks to show what their big dream is for their future. This type of challenge helps children make text-to-self connections as they reflect on the events in the story and relate that to their own lives.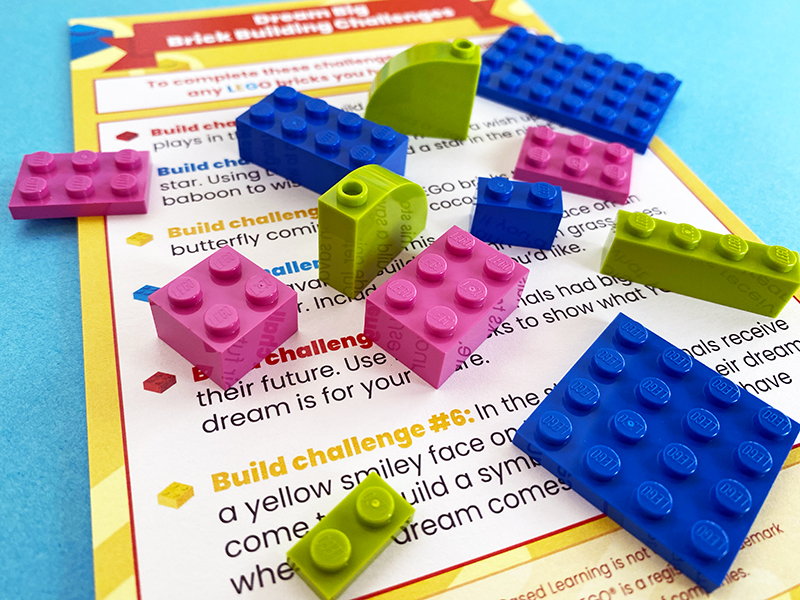 The kit also includes a game board that encourages children to engage with the materials by doing all of the steps and completing all of the brick building challenges.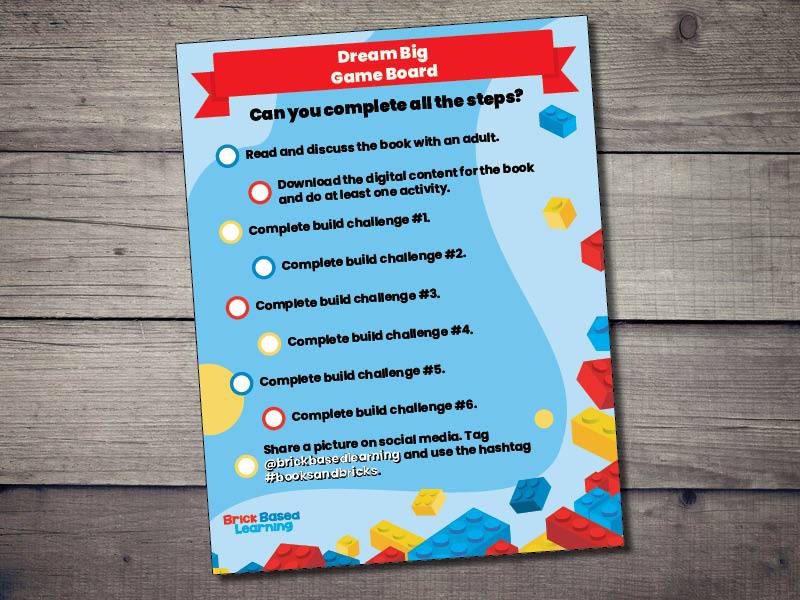 Finally, the kit includes a note to the adult with information about the book, tips for reading it out loud, and steps to take after reading the book to continue to engage and delight their young LEGO fan.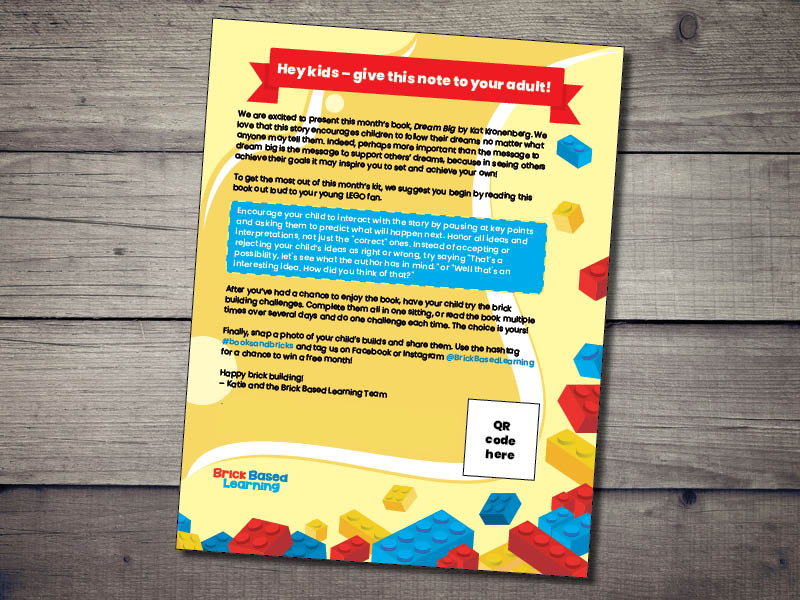 Inside each kit we include a link and password to a webpage where you can download more than 100 pages of worksheets and activities related to the book.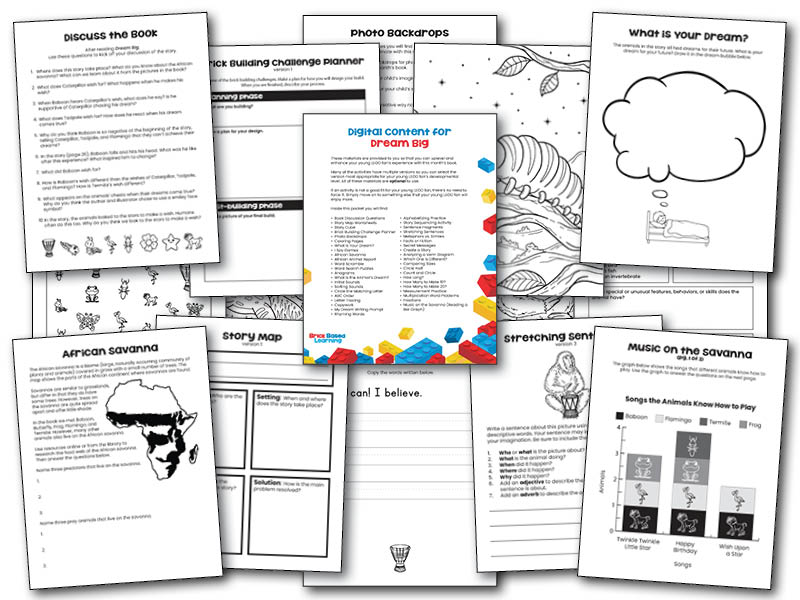 Here's a complete list of the digital content available in the Dream Big Brick Based Learning kit:
Book Discussion Questions

Story Map Worksheets

Story Cube

Brick Building Challenge Planner

Photo Backdrops

Coloring Pages

What is Your Dream?

I Spy Games

African Savanna

African Animal Report

Word Scramble

Word Search Puzzles

Anagrams

What is the Animal's Dream?

Initial Sounds

Sorting Sounds

Circle the Matching Letter

ABC Order

Letter Tracing

Copywork

My Dream Writing Prompt

Rhyming Words

Alphabetizing Practice

Story Sequencing Activity

Sentence Fragments

Stretching Sentences

Metaphors vs. Similes

Facts or Fiction

Secret Messages

Create a Story

Analyzing a Venn Diagram

Which One is Different?

Comparing Sizes

Circle Half

Count and Circle

How Long?

How Many to Make 10?

How Many to Make 20?

Measurement Practice

Multiplication Word Problems

Fractions

Music on the Savanna (Reading a Bar Graph)
There's so much here to enjoy, and plenty of content to create an entire book study if you wanted to. The Dream Big kit from Brick Based Learning is perfect for parents, homeschoolers, educators, and caregivers who wish to delight their young LEGO fans with wonderful books, engaging LEGO building challenges, and an array of digital content to extend the fun and learning.
Want to learn more about Brick Based Learning? Ready to delight a young LEGO fan in your life by sending a monthly kit straight to their door? Learn more about how we bring books to life by pairing them with LEGO bricks and brick building challenges at Brick Based Learning.